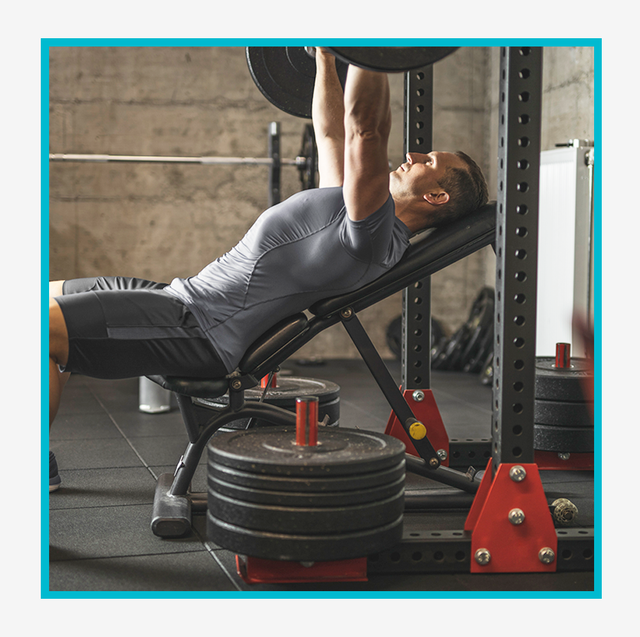 Courtesy of retailer
You can do so much with a simple weight bench, which is why it's is one of the most versatile pieces of gym equipment you can have. The range of exercises that use a bench is wide, and you can hit just about every muscle on your body with a bench as your base. Of course, you can use the tools for way more than just the classics that bear its name, like the bench press.
Read More: Best Home Gym Equipment
A weight bench allows you to do everything, like chest presses, dumbbell bench presses, incline bench supersets, skullcrushers, glute bridges, incline rows to hit your back, ab moves, quad and leg moves like split squats, and more biceps moves than you can imagine.
Beyond the basic workouts, there are so many benefits of adding a weight bench to your home gym. Most importantly, it will help you crush your lifts. Plus, they don't take up as much space as other equipment, like a big, heavy rack. Since many are adjustable, you can easily change the focus and switch up the angle on your presses.
Whether you prefer to do your weight work with dumbbells or barbells, both are compatible. (Speaking of dumbbells, if you're in the market for a new set, here are our picks for 11 sets of stellar adjustable dumbbells and the 12 best barbells out there.) Plus, many weight bench models include attachments and hidden features that allow for tons of different workouts, like a leg developer or squat rack.
Read More: Best Power Racks
Have we convinced you just how versatile the weight bench really is? If so, we've rounded up some of the best weight benches that will really take your training and your home gym to the next level. You can't go wrong with any of these 16 weight benches.

Best Overall Flat Bench
REP Fitness FB-3000 Flat Bench
Meets industry standards
High weight capacity
The professional-grade REP Fitness FB-3000 flat bench is forged from 11-gauge heavy duty steel and features a grippy high-density foam pad for stable (and comfortable) weight lifting. The bench height is also set to International Powerlifting Federation (IPF) standards.
Style: Flat
Weight Capacity: 1,000 pounds
Weight: 45 pounds
Adjustable Bench, AB-3100 V3
Easy to adjust
Comfortable-yet-sturdy cushioning
An ultra-durable, smooth, adjustable bench that goes from 85-degree incline to fully flat and delivers enough cushioning to make bench presses comfortable and enough stability for step-ups too.
Style: Adjustable
Weight Capacity: 1,000 pounds
Weight: 77 pounds
Most Comfortable Workout Bench
Workout Bench
Durable, premium cushioning
Lots of backrest settings
If you've already got the NordicTrack equipment thing going on in your home gym, you'll be pleased to know that they make an adjustable weight bench too. It has eight backrest settings, three seat settings, and is constructed with the highest-quality materials, including sewn-on seat covers which are much more durable than the usual stapled-on covers.
Style: Adjustable
Weight Capacity: 300 pounds
Weight: 65 pounds
Best Budget Weight Bench
Flat Weight Workout Exercise Bench
Easy to assemble and transport
Gets the job done
Forget the bells and whistles; this flat bench model that is all about ease. It assembles quickly, and weighs just 24 pounds so you can easily transport it.

Style: Flat
Weight Capacity: 385 pounds
Weight: 24 pounds
MOST SPACE-SAVING
Multi Purpose Fitness Station Deck
Works for multiple exercises
Easy to store
This weight bench is so much more than just a weight bench. Think of it as a home gym-in-one (for under $200, to boot!). You can use it as a stepping platform, plyometric box, for resistance tubes, and more. It can be adjusted into 16 configurations to adapt to almost any type of workout.
Style: Adjustable
Weight Capacity: 375 pounds
Weight: 30 pounds
Steelbody Deluxe 6 Position Utility Weight Bench
No frills here—the Steelbody bench is all about performance. Two-inch thick padding and heavy duty steel make this a sturdy support for the toughest workouts.
Read more: Best Adjustable Dumbbells
This sturdy Bowflex bench has six adjustable settings and a 600-pound capacity. Its best feature, however, is its collapsible design, which reduces its in-room footprint by more than 50 percent when it's stowed away.
This adjustable weight bench can morph into tons of different positions, including: nine backrest position adjustments, four seat position adjustments, and four leg-hold-bar position adjustments. Plus, it has a massive weight capacity of 1,000 pounds.
Multi-Position Workout Utility Bench
This is currently the #1 best seller on Amazon for weight benches. It has all the basics—an adjustable backrest and seat, leg rollers, thick padding—and is super affordable. Just note that it has a weight capacity of 300 pounds, so if you're looking to do some heavy lifting, it may not be the bench for you.
Adjustable Olympic Workout Bench
This Olympic bench also comes with a squat rack that are both adjustable so you can customize your workout. It's made of heavy duty steel, and can handle up to 800 pounds of weight. It also comes with a Preacher Curl pad and arm handle for isolated arm movements.

The Weider Platinum Standard Weight Bench features multi-position adjustment so you can easily switch between flat, decline, and incline positions during your lifting session.
Adjustable Dumbbell Weight Bench
This bench was designed with heavy lifters in mind, with a 1,500 pound weight capacity. It has seven back positions and three seat positions, with extra thick three-inch Duracraft vinyl padding for extra comfort during even the heaviest presses.

This unconventional bench is great for cardio workouts (it can be used as an aerobic step), as well as for strength workouts. The surface is non-slip, textured rubber that can be adjusted from eight to 14 inches, and can hold a maximum of 330 pounds.

Steel Frame Flat Weight Training Exercise Bench
This 40-inch flat bench is perfect for your small home gym or workout space with limited room. And even though it's small, it can still withstand 600 pounds of weight. Dare we say, small but mighty.
For the past two years, we consulted with Men's Health's Fitness editors and writers on the top weight benches. Experts including our fitness director Ebenezer Samuel, C.S.C.S. and fitness editor Brett Williams, NASM, put countless weight benches through the wringer to evaluate their weight capacity, comfort, and durability. We also considered top-reviewed weight benches that had at least 100 five-star customer ratings on e-commerce websites that we trust.
This content is created and maintained by a third party, and imported onto this page to help users provide their email addresses. You may be able to find more information about this and similar content at piano.io