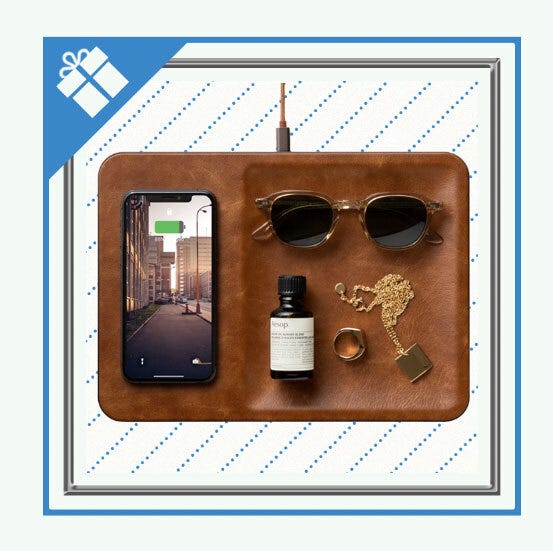 Courtesy of retailers
There's nothing like Father's Day to celebrate the leading men in our lives, including grandfathers. They're the ones who raised our own dads to be the awesome dudes they are—and there's no question they learned it from the dads who came before them. Maybe they've been a grandpa in spirit for a while, but once they officially take on the role, it's an entirely new milestone. So if there's a time to really show your appreciation, it's now.
We know Grandpa will love anything he receives from his grandchild—whether that's you or your kid. That said, we're sure he'll love it even more if it helps him better grill a steak, get some shut-eye or remind him of his other, younger glory days. Of course, you could always give him something that lets him proudly show off the family he's built, too, like a custom calendar or digital photo display.
Read More: Best Father's Day Gifts
If you're looking to get ahead of your Father's Day shopping (because June 19 will be here before you know it), we did some of the hunt for the best Father's Day gifts for grandfathers to get you started. Below, check out the best gifts for grandpa to give in 2022. From the tasty and stylish, to the timeless and lovingly cliché, these are sure to put a smile on his face the moment he unwraps them.
Read More: Best Gifts for Men
Most Thoughtful Gift for Grandfathers
What I Love about Grandpa Fill in the Love Journal
Pass down the grandpa gift to your children and the grandpa in their life: you're dad. Because your gifts started as crayon-drawn pictures too. And, in the end, that was always the best gift he ever received.
Best Tech Gift
Echo Show 5
It's a clock, a photo display (which can also stream videos from Prime Video and Netflix), and most of all, a way to connect Grandpa with his loved ones via video calls.
Best Gift for Golfers
Premiere Series-Packard Golf Shoe
Perhaps the grandfather you're shopping for spends every Saturday on the best golf courses in town. In which case, he might be due for a new pair of shoes for his next round.
Read More: Best Golf Shoes
Best Luxury Gift
The Runwell Desk Clock
Yes, you could always give your grandfather a nice watch. However, if he already has a collection of wearable timepieces, there's no doubt he'll appreciate a decorative (and practical) option that'll look great on his bookshelf or desk.
Best Gift for Whiskey Lovers
Cigar & Whiskey Glass Holder
Asking yourself what's the best gift for grandfathers? If he loves a good cigar and a whiskey on the rocks, this is it.
Give your grandfather an upgraded way to hold his loose bills and cards with this tough and slim option from The Ridge. This model holds up to 12 cards and includes a money clip to secure his bills.
If your grandpa is misplacing his glasses a little too often, this eyewear stand is the perfect place to keep them. Hands down, this will be a welcome addition to his nightstand.
New York Times Custom Birthday Book
The most news-worthy headline every year of his long, fruitful life. This custom personalized newspaper book will either make him feel accomplished or old…really old. Grandpa, remember the moon landing? That's on page 200.
Best Gift for Game Lovers
Wooden Multi-Game Set
Grandpa loves parlor games. But grandpa's also missing that white pawn and some black tiles…oh, and there are only three Aces in that deck, remember. Help him organize and entertain.
Classic Turkish Cotton Robe
The most quintessential grandpa gift. Perfect for trips to the kitchen or to the front porch to grab the paper.
Grandpa is still satiating his wanderlust, but still always complaining about those darn airlines. This 100-percent-pure-memory-foam travel pillow will help him sleep through those long, loud, smelling, irritating, baby-crying, when-are-we-landing flights.
Leaving various knick-knacks around the house will be a thing of the past with this stylish catchall. It'll also serve as a charging station for his phone. You can't beat an all-in-one product.
Depending on how his hearing is, Airpods or other wireless earbuds might not be for him. No worries, you can give your grandfather a pair of these bad boys.
Baseball: A Film by Ken Burns
A lot has changed since grandpa first saw the boys of summer take the field. Relieve over 150 years of America's pastime. It's a sports collector's must-have.
Instead of getting grandpa a boring puzzle book, gift something more unique and interactive to keep his mind sharp. This tetris-inspired brain teaser will give him something to do during those brain-cell-killing commercial breaks

Cellars Wine Club
Starting from $29
Remind gramps of his travels to the old country with this monthly surprise. Selections allow you to keep it simple or impress an experienced connoisseur.

Sure, it has its geographical limitations, but if grandpa has been calling the relatives and drawing up trees for years, there's no better gift for the family's record keeper than this.
From Jalapeño and Old Fashioned Maple to all kinds of jerky and seasoning, this crate truly is a man's best friend. It's time to put in those dentures and chew on some meaty gold.
Nothing hits quite like a personalized Father's Day gift—even for grandfathers. Create a custom calendar filled with photos of his kids and grandkids (and anyone else he holds close to his heart).
Perhaps you and the kids are far from home and aren't able to make weekly visits to Grandpa's a thing. Give him and his grandchildren a thoughtful way to stay connected with this letter writing set.
Quality time with the grandkids is always important for grandpas. And there's no better way to gather the family than with s'mores.
Personalized Divot Tool and Ball Marker Set
You could also add to that bundle of golf gifts with a personalized divot tool and ball marker. After all, even the best golfs take some chunks out of the fairway from time to time.
National Geographic Society
Your grandpa deserves a coffee table book with a view and no one does jaw-dropping photography better that Nat Geo.
Yellowstone Dutton Ranch T-Shirt
If he counts himself as part of the Yellowstone fandom, there's no reason he shouldn't have this shirt.
Add to his back patio setup with this sleek bonfire pit. He'll love setting it up to use every night of the summer.
Maybe grandpa's wine cabinet is already full. You know he can still open every bottle by himself, but why go through the trouble? This gadget will have Burgundy's best open in seven seconds.
The perfect topping for a fresh stack of pancakes or waffles. He'll get excited to wake up every morning just to drizzle this best-selling syrup over his breakfasts.
SmokePro DLX Pellet Grill
On grandpa's front porch, this space-ship sounding grill will turn his legendary BBQ cookouts into something even more otherworldly. So shell out, you're an adult now—with a salary.
Perhaps you typically associate the game of bocce ball with older men at the park. With that in mind, there's no way this couldn't be a part of this list.
Personalized Name Cufflinks
When in doubt, you can't go wrong with a pair of personalized cufflinks. It might even be one of the best gifts for grandpa you could get—and he'll be wearing these for years.
Maybe gramps needs a new toiletry bag. You've got him covered. This sturdy option from Filson is a great option that'll hold all his grooming needs.
Read More: Best Men's Toiletry Bags
For the grandfathers who are always on the move (and want to keep their favorite watches with them), this is a Father's Day gift they'll be so grateful to receive.
If your grandpa's retired, he probably has lots of time on his hands—and has likely taken up some hobbies, like photography, as a result. Help him keep his camera in top shape with a sleek and timeless carrying case.
Polaroid Now Instant Camera
Of course, you could also tap into his nostalgia with a Polaroid camera. It's also a great option for whenever he's spending quality time with the young ones.
Those who enjoy listening to a good jazz record will love completing their entertainment setup with this sleek and stylish turntable.
Maybe the old man's not a whiskey guy and more of a gin fan. This option from Glendalough has a fresh taste that'll transport him to the mountains on any given day.
Remember what we said about retirement and hobbies? Take his love for whatever his activity of choice is with a personalized mug.
When it comes to the best gifts for grandpas who like to spend their time outside, you can't go wrong with a classic Yeti cooler. He can use it for fishing, car camping with the family, or just in his backyard whenever he's grilling up his favorite foods.
Have a grandfather who loves to cook? Give him the gift of fresh herbs with this indoor garden, which will fit right on top of the kitchen counter.
Neck Massager with Heat, Shiatsu Neck Back Massager
Listen: We all could use a massage every now and then, but grandpas might need some TLC for their necks and backs a little more than others. This is an affordable Father's Day gift for grandpa that'll go a long way—trust us.
Meisterstuck Platinum Coated Midsize Ballpoint Pen
Looking for the ultimate gift to give your grandfather this year? Montblanc pens are a luxurious classic—and they'll look beautiful. on the desk in his study.
Dad Est. Grandpa Est. Personalized T-shirt
There are those who are celebrating Father's Day for the first time, and those who are celebrating Father's Day as grandpas for the first time. If the guy you're shopping for falls in the latter of the two, he'll love this unique Father's Day gift.
This content is created and maintained by a third party, and imported onto this page to help users provide their email addresses. You may be able to find more information about this and similar content at piano.io