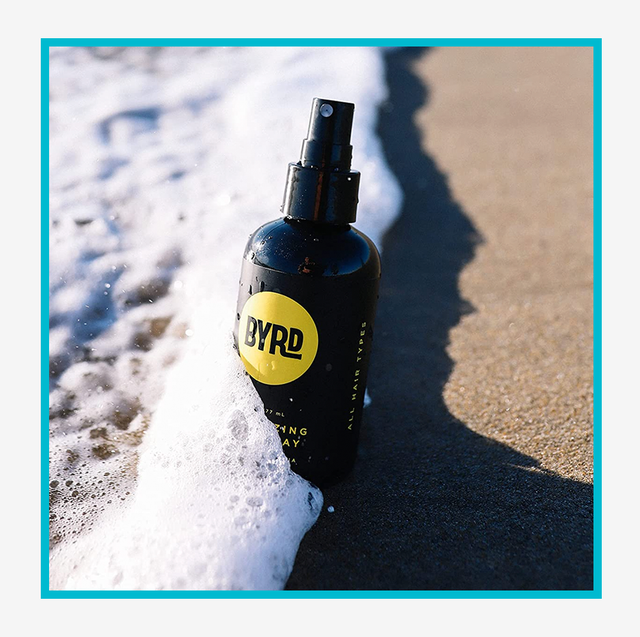 Courtesy of Retailer
When it comes to nailing that perfectly messy, post-swim beach hair, you don't have to spend a day by the ocean. Enter sea salt sprays, aka surf or wave sprays, which include (of course) sea salt to give your a naturally textured and tamed look. Some are even packed with ingredients to promote the appearance of thicker hair.
Read more: Best Hair Products for Men
Five years ago you likely would've found only a couple of quality sea salt sprays on the market. Now, there's almost too many to count. That's why we tried and tested a bunch of sea salt sprays for the past year to find the best one for virtually every type of mane. Ahead are some of our favorites to achieve that devil-may-care hairstyle.
Best Overall
Texturizing Surf Spray
Gives hair a classic surfer look
Great price point
Easy to carry around
BRYD seemed like it was one of the first at creating an effective sea salt spray. The weightless spray not only provides a textured surfer-look, but it also protects against harmful UV rays and keeps your hair moisturized. Throw one of these in your everyday backpack or tote for impromptu styling.
Read more: Best Hair Conditioners
Best for Long Hair
Sea Spray
Easy to apply to long hair
Formula includes UV protection
It makes sense to get a sea spray directly from a suncare brand—and from Sun Bum, no less. A major positive about Sun Bum's spray is it's formulated with UV protection to decrease the chance of sun damage to your hair and hair follicles. And while the spray handle might seem like a flashy design choice, it's actually super effective when applying to long hair.
Read more: How to Style Long Hair
Best At Providing A Strong Hold
Clay Effect Style Spray
Has a medium-strength hold
Lightweight formula
Not ideal for those with thick hair
If one of your qualms about sea salt spray is its lack of hold, then the Clay Effect Style Spray is the pick for you. The spray provides a natural texture while also providing a strong semi-matte hold, like a lighter pomade. It's suitable for all hair types except for those with thick hair.
Read more: Best Hair Pastes for Men
Best Scent
Sea Salt Spray
Has a fresh, citrus scent
Can use on wet or dry hair
Murdock found the right formula for its spray thanks to the help of London-based barbers. You can use the spray on wet or dry hair to boost texture and volume. Its star ingredient: grapefruit extract, which nourishes hair follicles while providing a pleasant citrus scent.
Read more: Best Colognes for Men
Best Portable Option
Texturizing Sea Salt Spray
TSA friendly
Formula includes antioxidants to protect scalp
Brickell's sea salt spray thickens the appearance of hair while enhancing natural curls and waves thanks to Vitamin E, an important antioxidant that nourishes the scalp and strengthens hair follicles. And because it's so portable (2 fl oz option) you can bring it with you on your next vacation.
Purely Coconut Texturizing Spray
Alaffia predominantly uses coconut water in its formula to protect follicles and keep your hair from drying out. Couple it with a high quality list of fair-trade ingredients, and you've got an all-natural sea salt spray that checks all the boxes.
Salty Dog provides a gentle matte look when applied. The product is full of natural ingredients, and is paraben-free, and vegan friendly. We love the spray's touchable texture and fresh (but not overpowering) scent.
R+Co is a bit on the pricier end of sea salt sprays, but the flip side is you get what you pay for. High quality ingredients like cranesbill, yarrow plant extract, balm mint, sage, and vitamin C are added to promote healthy hair and boost the effectiveness of the product. You get a Eucalyptus-scented salt spray that delivers beach-y hair texture and volume.
The most unique feature from OUAI's spray is it's formulated with rice protein instead of sea salt spray, making it especially safe against color-treated or keratin-treated hair. And while the spray is a bit on the weaker side, we see it as an opportunity for beginners to test and see if they want to use something stronger in the future. It also has a great floral scent.
Read more: Best At-Home Hair Dye Kits

With over 200 positive reviews on Amazon, Uppercut is a spray that will knock your hair right into shape. The product works best when applied to damp hair. From there you can either let your hair dry on its own and create a natural messy look, or you can use the spray as a primer and then blow dry to get more volume and extra control.
Davines aims to get as close as it can to a post-dip-in-the-ocean hairstyle thanks to its use of natural ingredients. Reviews praise Davine's for its ability to create waves even for some of the thickest hair. And while there's no listing for the scent, most buyers say it has a gentle smell of vanilla and coconut.
How To Apply Sea Salt Spray
Sea salt spray is best when applied to damp hair. There are a few sprays out there that work for dry hair but if you want to emulate true beach hair then stick with the latter method.
First, give a couple of spritzes onto your hair then run your hands through it to start working the product into place. You want to make sure you massage the spray enough to wear it reaches your hair follicles that way you can fully enhance your waves and curls.
Read more: Best Shampoos for Men
Once the sea salt spray is worked into your hair you can either let it air dry or use a blow dryer. Using a blow dryer with sea salt spray will help inject more volume into your hair and give more control.
The main difference in using a blow dryer is your hair will look more tamed. Going with the air-dry option will essentially let the sea salt spray work all on its own.
Can Anyone Use Sea Salt Spray?
It's worth mentioning any individual can use sea salt spray. Those with straight hair typically will get a more textured, messy effect. And those with curly or wavy hair will see those features accentuated more (and even maximized).
Make sure you pay attention to the types of sea salt spray you're buying. Some sprays are formulated much more differently than others.
Read more: The Best Grooming Products You Can Buy
For example, if you have thick hair you will want to avoid sea salt sprays that maximize volume. Guys with thick hair already have a high level of volume, so adding more might create one of those giant puff-ball situations.
And for those who use color-treatment or keratin-treatment, you should be super picky in what you purchase. You either want to use sea salt spray sparingly or look for an alternative like OLUI's Wave Spray.
For the past two years, we consulted with Men's Health's Grooming editors and writers on the top grooming products for men. Experts including our Grooming Editor Garrett Munce and Senior Commerce Editor Christian Gollayan put a myriad of sea salt sprays to the test and evaluated their effectiveness, scent, and value. We also considered top-reviewed sea salt sprays that had at least 100 five-star customer ratings on e-commerce websites that we trust.
This content is created and maintained by a third party, and imported onto this page to help users provide their email addresses. You may be able to find more information about this and similar content at piano.io